The birthstone for December can be a bit controversial – some claim tanzanite, blue zircon, or turquoise; blue topaz is certainly a top favorite. The one common element these gemstones have in common? Hues of blue! 
Does your loved one have a birthday in December? Are you celebrating your fourth wedding anniversary? Take your cue from the winter scenes around you and opt for a wintry shade of jewelry this month! 
Tanzanite – This blue-purple zoisite is limited to the regions of Tanzania! With sultry deep shades of indigo, this stormy gemstone was given its name by Tiffany & Co. back in the day to emphasize the stone's exclusive geographical location. Tanzanite is rarer but cheaper than sapphire! With limited supplies and increasing popularity, however, tanzanite is a rare beauty you should snag before prices rise. 
Zircon – This gemstone is often confused with cubic zirconia as a diamond substitute; zircon comes in all kinds of incredible colors with blue being the most popular! With cloudy and smoky elements, it's easy to see why! Who can say no to such an intriguing and mystical gem?
Turquoise – Distinct in color and historically treasured, turquoise is always a favorite. From powder blue to robin's egg hues, turquoise was valued by ancient Egyptians, Greeks, and Persians. Native Americans also prized the stone as can be seen in much of their artwork and jewelry even to this day! 
Blue Topaz – This gemstone is easily a top contender for the December birthstone. Durable enough for everyday wear, but lustrous and brilliant, blue topaz is a winter favorite in the jewelry department. Mystics claim it grants long life, beauty, and intelligence. Topaz is colorless in its pure form so any color is a result of either natural impurities or heat treatment. With a variety of colors including a spectacular gold (check out Golden Topaz for example), topaz's most popular color is still the hues of blue.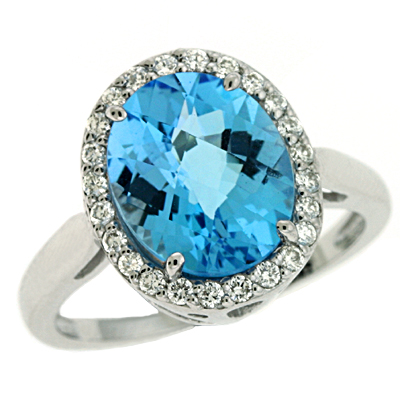 Remember to use caution when wearing and caring for your jewelry; many stones like turquoise are highly sensitive to any chemicals – including those found in many cosmetics or perfumes. Joslin's can help you take care of your jewels the right way! Read our jewelry care tips here! 
Ready to dazzle your loved one this winter? Surprise them with a brilliant blue piece that will brighten their whole season!